Here you'll find the films available with at least English subtitles. Our works in progress are visible on the French version.
If you would like to see these films, please contact us.
CHILI 1973
Benoit Keller & Thomas Lalire – 68′ / 2023 – Chilean subtitles also available
Françoise de Menthon's notebooks and the testimonies of refugees plunge us into the story of the welcome given to Chileans during the 1973 coup d'état.
IN OTHER WORDS
Antoine Dubos – 75′ / 2020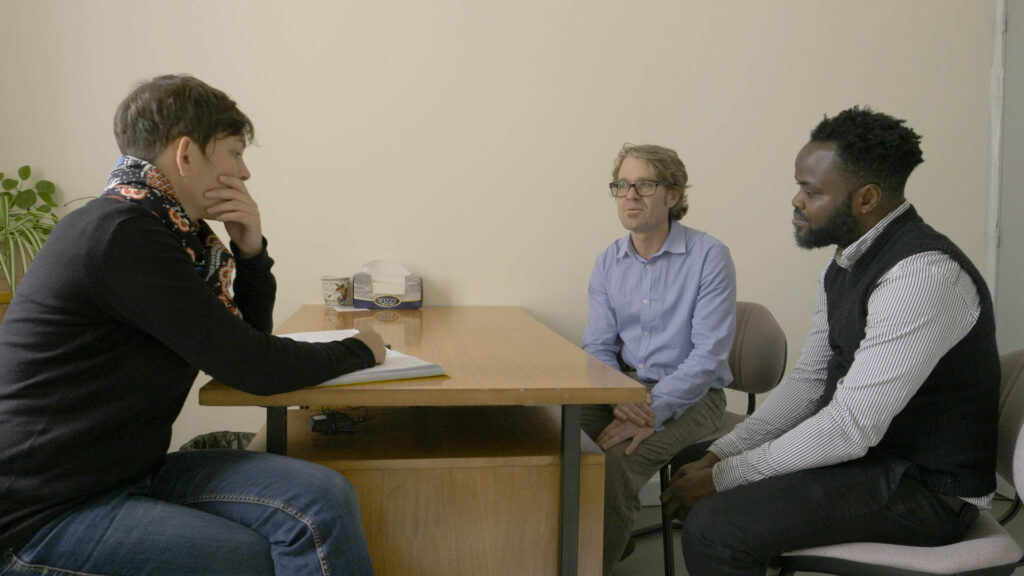 At the Chambéry day center, the Équipe Mobile Précarité et Psychiatrie receives asylum seekers for consultation. They come to share their words, to try to name their suffering, to talk about their nightmares and fears…
JEROME'S SONG
Olivier Bosson – 90′ / 2023
This film has its origins in the tragic story that happened to a breeder in Saône-et-Loire. His name was Jérôme Laronze, and he died on May 20, 2017, shot dead by a gendarme. With local people, we wanted to replay what happened.
THE POLICE ESTATE
Antoine Dubos – 51′ / 2021
On the simulation site of the Oissel police academy (France), student peacekeepers train in a city recreated from scratch. By staging ordinary situations, the police reveal their vision of social order.
RISING FROM THE TSUNAMI
Hélène Robert & Jeremy Perrin – 68′ / 2019
In March 2011, an unprecedented tsunami struck Japan, killing 20,000 people and devastating the land. From the depths of the sea, the dead return to haunt the living.